Encouraging saints around the world since 1991 !!
The God Of Jerusalem
(Deuteronomy 33:26-27)
Key of Em, a lively Messianic chorus
There is none like the God of Jerusalem
He descends from the heavens above
With majestic splendor to help us
with His strength, with His might, with His power
Eternal God, our Refuge
Eternal God, our Rock
We find rest in the God of Jerusalem
In His everlasting arms
(repeat to beginning)
Recorded on "New Works Of Grace"
A special thanks to InHymn.com
for including this song on their wonderful site
"I really enjoyed 'The God Of Jerusalem'...
I am looking for some up-beat praise and worship songs
for a recording I intend to do".
(Judith, from Kentucky)

Written while sitting beside a fire while camping
at Miles Standish State Park in Plymouth MA.
"As The Trees" and "Glory To The Righteous One"
were also written at this campground.
Translated into Afrikaans by
Liz from Cape Town, South Africa
God van Jerusalem

Translated into Português (Brasil) by
Daniel Borges, from Brazil
O Deus de Jerusalem
Translated into French by
Aurélie from France
LE DIEU DE JÉRUSALEM
I play guitar and sing with a group called, "Azuza." You can see our
Web site at: http://www.azuza.org ... I came across your song,
"The God of Jerusalem," on the Internet. It has a very nice Messianic sound.
We are interested in recording the song. (Lee, from Florida)
Right click title below and "Save Target As"
to download Adrian V. Miller's
MIDI performance of
The God Of Jerusalem
Right click title below and "Save Target As"
to download Adrian V. Miller's
PDF Sheet Music of
The God Of Jerusalem
(Acrobat Reader 5.0 version)
Right click title below and "Save Target As"
to download Julie Schieck 's
MIDI arrangement of
The God Of Jerusalem
Left click title below
to hear Ralph sing this song ( MP3 format).
Right click and "Save Target As"
to download to your computer
The God Of Jerusalem
KARAOKE VERSION !!!
by Johan Komrij, from the Netherlands
Right Click and "Save target as"
to download Richard Garber's
creative and wonderful
MIDI arrangement

Here's how Richard Garber describes his MIDI arrangement:
... First I laid the basic rhythm and percussion tracks with
Band In The Box using Dance1. Then I added my own tracks
while modifying the Band In The Box tracks somewhat... In the song
"The God Of Jerusalem", I started off with a MIB (Men In Black)
pizzicato backdrop to the oboe and clarinet squabbling (just as
I remember Jewish folks always squabbling over something!)
in the 1st verse. The strings come in maintaining some order
and settling down the cantankerous pizzicato strings to
something more appropriate. However all you know what breaks
loose in the third verse with everyone including my well mannered
strings breaking ranks and going there own way. The clarinet
finally beats all with his glissando exit into the last stinger
done en masse by the orchestra. It's not big band, but it is noisy!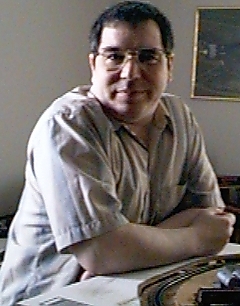 Click here to find more of our MIDIs
and read a brief bio of Richard
Copyright 1999, Ralph Merrifield
New Hope Music, PO Box 1612, Westboro MA 01581
You have our encouragement and permission
to duplicate and share this song for all "not-for-profit" purposes
(corporate worship, overheads, songbooks, web sites, give-away copies).
Please contact New Hope for other uses. Thanks !!!