Encouraging people around the world since 1991 !!

THE KING REJOICES
Psalm 21:1-5 (NIV)

Chorus:

O LORD, O LORD, the king rejoices
in Your strength.
How great, how great is his joy
in the victories You give,
in the victories You give!
1. You have granted him the desire of his heart and
have not withheld the request of his lips. Selah (chorus)

2. You welcomed him with rich blessings and
placed a crown of pure gold on his head. Selah (chorus)

3. He asked You for life, and You gave it to him--
length of days, for ever and ever. Selah (chorus)

4. Through the victories You gave, his glory is great;
You have bestowed on him splendor and majesty. Selah (chorus 2x)
MEDIA FILES
Ralph Merrifield MP3 - voice only The King Rejoices
Ralph Merrifield Lyrics and Chord Sheet The King Rejoices
Dedicated to Jacquelyn M. Walker and Alma M. Juat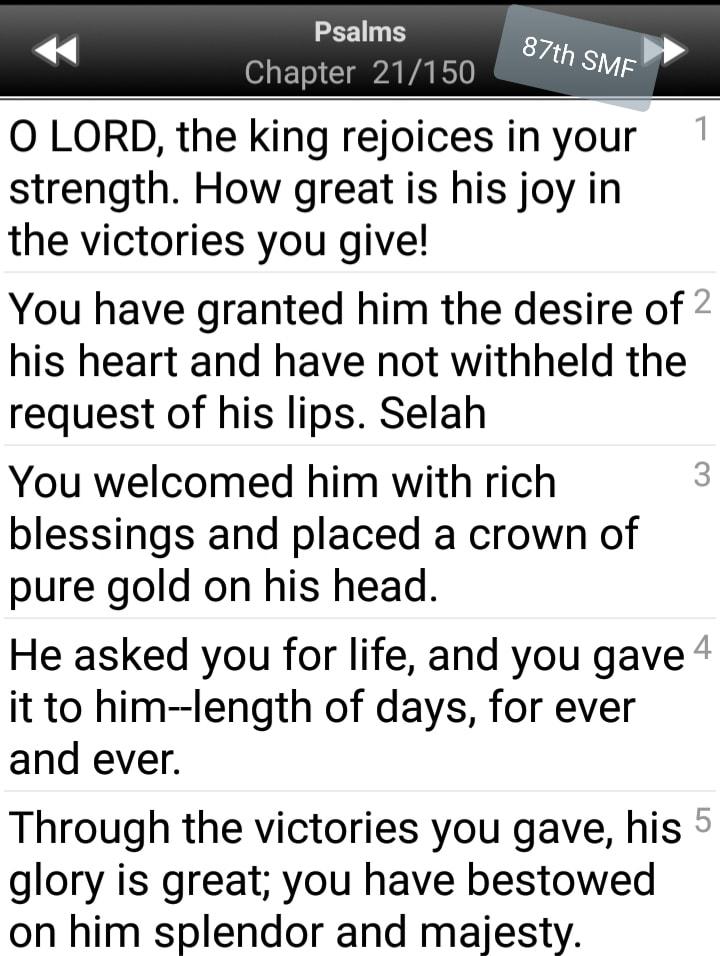 The Facebook post that inspired the song

This song was written while driving to work. Here is the first draft.
A part of this new collection:
Words Of Life #2 (2019)
Copyright 2019, Ralph Merrifield. Written 7/31/19
New Hope Music, PO Box 1612, Westboro MA 01581
You have our encouragement and permission
to duplicate and share this song for all "not-for-profit" purposes
(ie. corporate worship, overheads, songbooks,
web sites, give-away copies).
Please contact New Hope for other uses. Thanks !!!
HOME TOP 10 SONG PAGES HOW TO USE CONTACT US