Encouraging saints around the world since 1991 !!

MIDI ARRANGEMENTS
& SHEET MUSIC BY


Richard Garber
(North Carolina)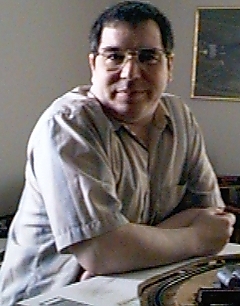 "Currently I run my own business, PC Workstations/Island Software...
a hardware techie as well as a self-taught programmer (Clarion).
I am married with two teenagers. I attended college for 3.5 years as a
music major performing with various bands and orchestras playing bassoon and sax.
I played with a Christian outfit and we played various places in Pennsylvania
and a little into New York. I became a Christian in 1977."

Richard says that the following web sites are endorsed by
the "Alaskan Eskimo Biblical Artifact Excavating Research Team"
Wow, they must be good!!
www.soundclick.com/livingwatersjazz
http://cdbaby.com/cd/livingwatersjazz






www.edmfamily.com/edm/index
is Richard's business site

MIDI ARRANGEMENTS
How Precious Is Your Love (full orchestration)
How Precious Is Your Love (simple arrangement)
Splendor And Majesty

Richard Garber has also created three MP3
accompaniment tracks for
The Baby Of Bethlehem
---
All songs copyright Ralph Merrifield
New Hope Music, PO Box 1612, Westboro MA 01581

You have our encouragement and permission
to duplicate and share these song for all "not-for-profit" purposes
(web site background, recordings, corporate worship, give-away copies).
Please contact New Hope for other uses. Thanks !!!
---
If any of you have the time and resources to create MIDI files,
I'm looking for people to help arrange
100+ more New Hope songs!
My general approach for background/accompaniment MIDIs is

1) Use a brief Intro
2) Keep the melody out front, but the accompaniment interesting enough to support it. Descants, countermelodies and a variety of instruments are fun!
3) Have sufficient repeats to cover all verses. OK to use an occasional, brief interlude between verses.
4) When appropriate, repeat the chorus at the end.
5) A simple ending after the last verse/chorus helps wrap things up...

Yes, it's a very basic approach, but these MIDIs serve well as backgrounds on our web sites, and as accompaniment in group singing around the world. They are also popping up all around the Internet!

Other types of arrangements of our songs are encouraged (classical, jazz, SATB), and each finds its place in our web sites.
Want to use our MIDIs on your web site ?
Karaoke version of some NHM MIDIs
HOME TOP 10 SONG PAGES HOW TO USE CONTACT US