Encouraging people around the world since 1991 !!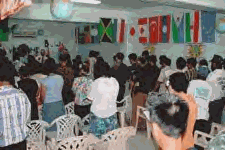 I am a missionary starting the very first Baptist Church in the country
of Palau. I am doing a search on the Internet to find music for use in our small church
since we have NO book stores in our little island nation.
We currently have 14 nationalities in our body. This makes for some wonderful worshipping.
We are looking for good Scriptural music for our church. If we can help
you reach your goal of getting these CDs and sheet music around the world,
we would love to.... We have the same desire... Matthew 28:19,20
(Rev. Terrence M. McClure, Missionary/ Pastor from Palau)

CAN YOU HELP US
SHARE OUR MUSIC
AROUND THE WORLD ??
Working with a number of missions organizations,
New Hope has already distributed our
recordings and songsheets to 230+ countries !!
(click here to see complete country list)


Simply stated, our mission is...
"to provide free Scripture-based songs
that will encourage, strengthen and equip
many people in every nation of the world."


Can you help us ???

These are the 35 places we desire to reach
with the gift of music...

Algeria, Barbuda, Azores, Cape Verde, Caroline Islands, Congo-Brazzaville, Crete,
Equatorial Guinea, Ellice Island, Falkland Islands, French Guiana, Gilbert Islands/Kiribati, Guadeloupe,
Iran, Kyrgyzstan, Line Island, Loyalty Island, Maltives, Mariana Island, Martinique, Mauritania,
Moldova, Montserrat, Nauru, Phoenix Islands, Quatar, Samoa Island, St. Kitts-Nevis, Tajikistan,
Tokelau Island, Tunisia, Turkmenistan, Uzbekistan, Wallis Island/Futuna, West Sahara
If you know of an English-speaking believer in one of these countries
please tell them about our web site and free resources.

Thank you for your part in this ministry!
- Ralph Merrifield
HOME TOP 10 SONG PAGES HOW TO USE CONTACT US