THE BABY OF BETHLEHEM
by Ralph Merrifield
Present: Luke 2, Matt 1-2, John 1
Past: Isaiah, Micah 5:2
Future: Revelation
A contemporary Christmas carol, focusing on the overwhelming,
awesome gift God gave to us through Jesus


Anointed One, Messiah, Lord
Savior, Christ, Good News, Great Joy
Eternal God, now dwelling with man
The Baby of Bethlehem, the Baby of Bethlehem

Immanuel, the Holy Son
Shepherd, Ruler, Mighty One
Descended to Earth, according to plan
The Baby of Bethlehem, the Baby of Bethlehem

BRIDGE:

With angels we sing Your glory
With shepherds we give God praise
With wisemen we come before You
To worship You all our days !


The Word, now flesh, in Him is life
One and Only, shining Light
Full grace and truth, we now understand
The Baby of Bethlehem, the Baby of Bethlehem

Everlasting Father, Prince of Peace
Wonderful Couns'lor, King of Kings
No end there will be to Your increase
The Baby of Bethlehem, the Baby of Bethlehem

(bridge)


Alpha and Omega, Master and Friend
All in all, Forgiver of sin
Creator, Designer, Beginning and End
The Baby of Bethlehem, the Baby of Bethlehem

All glory, honor, blessing and strength
Wisdom, power, mercy and grace
Past, present and future contained in His hands
The Baby

The Baby of Bethlehem

History & Testimonies
Several New Hope Music carols & hymns, including this one, can be found on "A Christmas Carol Treasury: The Hymns And Carols Of Christmas."
It is also included on several other Christmas sites, Cyberhymnal & Songs Of Praise.
Also used on the Pennsylvania Visitor's Network Christmas site
Choirs from India, South Africa, Canada, Finland and across the USA have sung this carol. Thanks!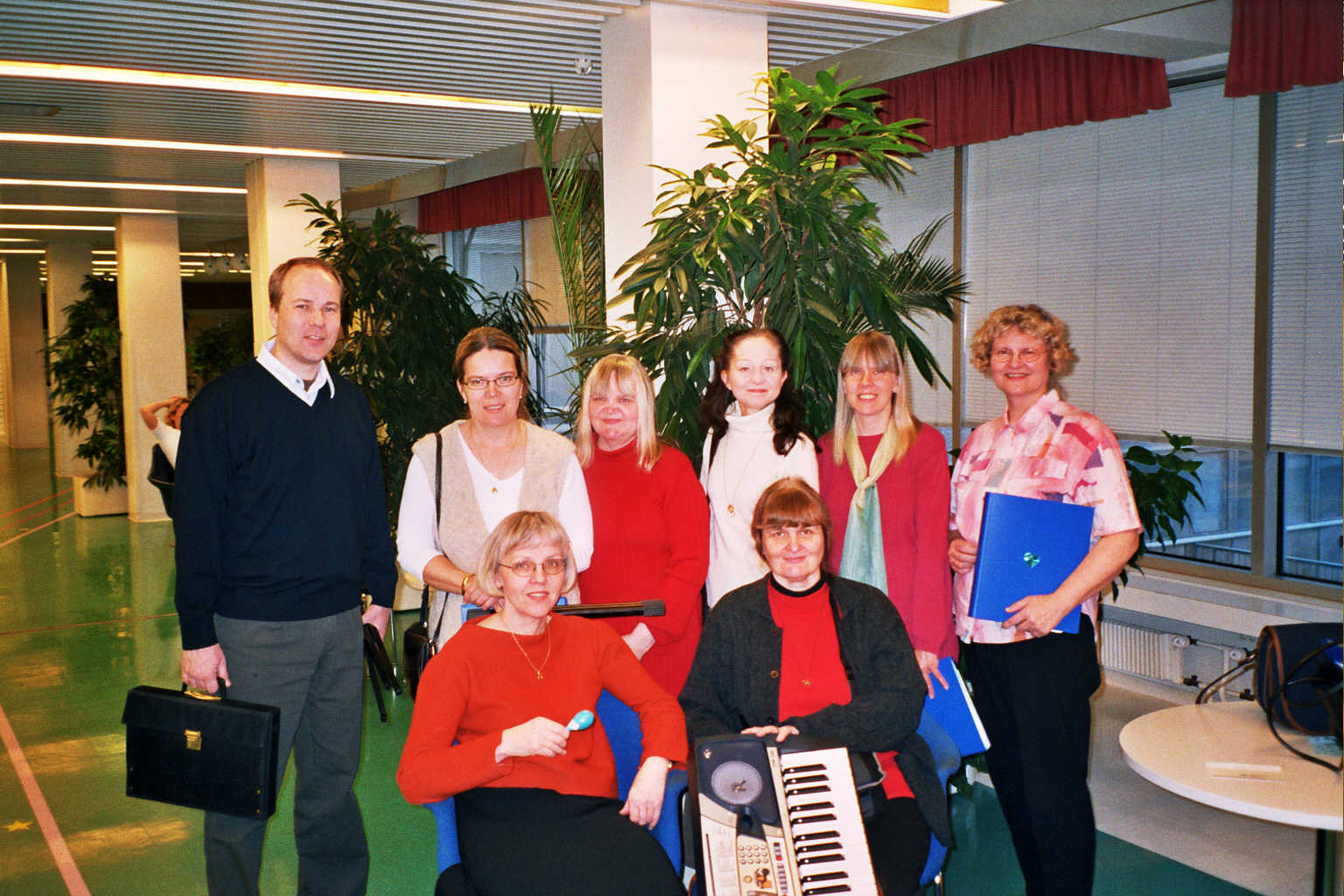 Here is one picture of us. It was taken for a week ago in the hall of Jorvi Hospital. It's a big hospital in Espoo, a city close to Helsinki...
We are going to visit hospitals and old people's homes twice a month and once a month we sing in the church service... We have two new songs of yours in our program:"Your Are Awesome God" and "The Baby of Bethlehem".
We are planning to sing "The Baby of Bethlehem" in the Christmas meeting of our church and perhaps in our New Year's conference... This song is so majestic!
Lea, from Finland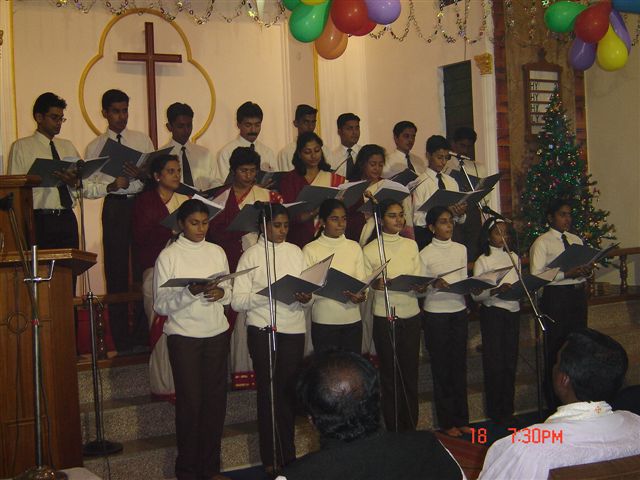 After listening to SATB arrangement from your site, I selected two of your beautiful Carols "He Shall Be Called" & "The Baby Of Bethlehem" and presented by my Choir during the Christmas programmes in December 2003 and 2004. These were the best enjoyed among the seventeen carols we presented. The tune and arrangement were indeed exceptional and the effort is really commendable. May God bless you and let you create more such carols to enable attracting many souls to His Kingdom.
K.M. Thomas, Choir Director, CNI Immanuel Church, Mayur Vihar, New Delhi, India
International
Watch a wonderful performance in Italy, by Ukrainian singer Halena Hromek YouTube Video
A wonderful recording (in Finnish!) by a church choir in Helsinki, Finland Recording
Translated into the Dutch language by Johan Komrij (the Netherlands) Dutch Translation
Translated into the Urdu language by Samson Ayaz (Pakistan) Urdu translation
Translated into Português (Brasil) by Daniel Borges, (Sao Paulo, Brazil) Português translation
Translated into Finnish by Lea Alaja (Helsinki, Finland) Finnish translation
Translated into Afrikaans by Liz Van Heerden (South Africa) Afrikaans translation
Arrangements & Performances
David Bentley and the Living Waters Orchestra (Richard Garber) released two beautiful vocal/instrumental recordings of "The Baby Of Bethlehem".
Michael L. Jester's MIDI arrangement of The Baby Of Bethlehem
Johan Komrij, from the Netherlands

Adrian V. Miller's MIDI performances:
The Baby Of Bethlehem (Key of C)
The Baby Of Bethlehem (Key of D)
The Baby Of Bethlehem (Key of G)
Adrian V. Miller's PDF Sheet Music
The Baby Of Bethlehem (key of C)
The Baby Of Bethlehem (key of D)
The Baby Of Bethlehem (key of G)
Flute duet, using our MIDI as accompaniment, The Baby Of Bethlehem
Richard Garber has offered three MP3 accompaniment tracks for "The Baby Of Bethlehem"
Rich Garber's description of his arrangement:
When I first listened to "The Baby of Bethlehem" MIDI, and then read the lyrics, I was struck by the majesty of His master plan... Such a ceremonial event that our Savior for all eternity should wrap Himself in a simple child. The inspiration of the moment led me to think the arrangement should be joyous, ceremonial and majestic though a baby is so small.
Celestial strings trumpet the start the arrangement and a tympani crescendo ushers in the melody. Upper strings dance about the melody giving way to a stately chorus upheld by pompous brass.
In the second stanza the lower strings do a pizzicato tip-toe countering the upper string dance while percussion beat out a march like cadence.
In the third stanza all joy breaks loose and the brass sing out their own anthem in tribute to Him. Bells toll the tiny victorious king as all evil soon will be defeated by His hand and the music speaks of a hope and joy when we will reign triumphantly with Him in a final salvo of tribute and frenzy.
Copyright 2002, Ralph Merrifield (Written 12/23 - 12/31/00)
New Hope Music, PO Box 1612, Westboro MA 01581
You have our encouragement and permission to duplicate and share this song for all "not-for-profit" purposes (ie. corporate worship, overheads, songbooks, web sites, give-away copies). Please contact New Hope for other uses. Thanks!!!