Encouraging saints around the world since 1991 !!
HOW AWESOME IS THIS PLACE
Being overwhelmed in God's presence
(based on Genesis 28:12-17)


I see angels ascending, descending
on a stairway from heaven to earth.
At the top stands the Lord, God of Abr'ham.
He is mighty.
How awesome is this place, dear Father.
How beautiful the house of God.
You're present at the gate of heaven,
it is good to be near. It is good to be here.
How awesome is this place, oh Lord
I feel blessings ascending, descending
on the hearts and the prayers of the saints.
Through this fellowship, sweet, comes His pleasure.
He is lovely ! (chorus)
To the Ancient of Days be the honor.
He is worthy alone to be praised.
We will sing through the ages in Glory
" You are holy !! " (chorus 2x)
Copyright 2001, Ralph Merrifield (written 10/3/00)
New Hope Music, PO Box 1612, Westboro MA 01581

You have our encouragement and permission
to duplicate and share this song for all "not-for-profit" purposes
(ie. corporate worship, overheads, songbooks,
web sites, give-away copies).
Please contact New Hope for other uses. Thanks !!!
---
MEDIA FILES
Peter Gringhuis (the Netherlands) MP3 Recording How Awesome Is This Place
Johan Komrij (the Netherlands) Karaoke Video How Awesome Is This Place
Greg Brittingham Video Recording How Awesome Is This Place
New Hope worship team MP3 How Awesome Is This Place
Adrian V. Miller (Canada) MIDI How Awesome Is This Place
Adrian V. Miller (Canada) PDF Sheet Music How Awesome Is This Place

Elton Smith/Richard Garber MIDI How Awesome Is This Place
The Faith Choristers (Singapore) Video How Awesome Is The Place

Lars Lovegren (Pennsylvania) SATB Choir PDF Sheet Music How Awesome Is This Place
------------------------------
Hans M Herbrand (Germany) MP3 Arrangement How Awesome Is This Place
Hans M Herbrand (Germany) PDF Sheet Music How Awesome Is This Place
Hans' web site has more wonderful arrangements
and German translations of this song

------------------------------
Richard Garber (North Carolina) MIDI arrangement How Awesome Is This Place
Here's how Richard Garber describes his MIDI arrangement:
"Nice tune... I noticed in the words a lot of ascending and descending of angels and wrote that effect into the
string line. The song sweetly sings of praise and how lovely is His dwelling place so I tried to create a heavenly feel.
The strings also were used to create a Debussy 'without time' subtlety, while the percussion instruments
contradict this by keeping the flow of time orderly. I used an instrument for the melody, which to me, evokes a melancholy
mood. Heaven to me, speaks of wonderful things to come, yet here we are, waiting for His return.
What I like most about my arrangement is the feeling of serenity. Just like in the movie, 'Somewhere In Time', the celestial sounding
strings give that feeling of tranquility and peace. I believe that not only for Biblical reasons we'll find ourselves on our knees
sobbing profusely, but for also the nightmare of this life tainted by sin, will be a fading memory. Imagine being before Our Lord, knowing
there is no more sickness, no more pain, no more dying. Surely, this will be an awesome place!"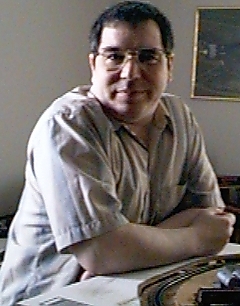 Click here to find more of our MIDIs
and read a brief bio of Richard
I love this song and would like for my choir to sing
along with the midi arrangement by Richard Garber...
(Mary, from Florida)
---
TRANSLATIONS
Translated into Afrikaans by
Liz Van Heerden, from South Africa
Afrikaans translation
Also translated into Shona by
Jones from Zimbabwe
Shona translation
Translated into PortuguÍs (Brasil) by
Daniel Borges, from Sao Paulo, Brazil
PortuguÍs (Brasil) translation
Finnish translation by Lea Alaja,
from Helsinki, Finland
German translation by Hans-M. Herbrand,
from Germany
Check out his wonderful German translations

---
OTHER FACTS
In December 2000, Gerrit Gustafson was kind enough to review
"How Precious Is Your Love" and suggested several useful modifications
to the melody and chords. He also gave me encouraging feedback on
this song, "How Awesome Is This Place", and "Now Our God".

Part of the "I Am Persuaded" collection
This song is now included in Hymntime !
Songs Of Praise also has a new page highlighting this chorus.
Several web sites now use this song as a background MIDI. Thank you!
"HOW AWESOME IS YOUR HOUSE"
Alternate lyrics, by Gary Bickel

"GOD'S TRUE SON"
Alternate lyrics, by Lars Lovegren
1) PDF of an SATB setting of my text to the original tune and chords.
3) MIDI version, single stanza, no intro.
---
TESTIMONIES
"You hardly hear this type of inspirational song. It is sooo inspirational. |
Whenever I listen to this song I get so heavenly minded..."

"While browsing looking for midi files... I found the
song you wrote "HOW AWESOME IS THIS PLACE".
What a BLESSING. I sat and worshipped the Lord for some time
just listening to your midi. It is a truly anointed song."
(Claudette, from Alabama)

"What a wonderful song; as music director of a local church,
I would like our choir to do this song some Sunday morning."


The Easter service was really great;
we sang "Hallelujah, Jesus is Lord", "Center Of My Soul"
and "How Awesome Is This Place"...

I have been telling everybody about how I happened to find your site
and the lovely music one can find there for all situations in life.
Your songs have helped us to be united with the Lord in a very special way.
(Pamela, from India)

HOME TOP 10 SONG PAGES HOW TO USE CONTACT US